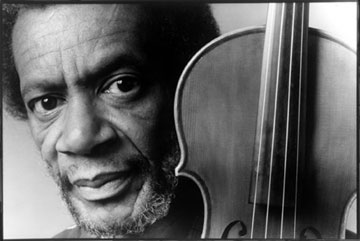 LEROY JENKINS (1932–2007) invented his own musical language. His was an extraordinary bonding of a variety of sounds associated with the black music tradition, while simultaneously bridging with European styles. His intermeshing of jazz and classical influences leaves critics constantly wondering at his musical identity: however, all agree that "Jenkins is a master who cuts across all categories." (The San Francisco Chronicle) "He is as quick as a cat, emotional as an actor, and as precise as a mathematician." (St. Louis Post Dispatch) "No violinist in the field can touch Leroy Jenkins." (The Village Voice)

Born in Chicago, Illinois in 1932, Jenkins was already playing violin at the age of 8 at his local Ebenezeer Baptist Church. The flavor of spirituals still remains in his music. He studied music in high school and then attended Florida A&M University where he studied with Bruce Hayden and completed his B.S. in music. For the next ten years Jenkins remained in the South teaching music. Jenkins returned to Chicago in 1965 and was drawn into the wellspring of Chicago's creative music activities. Almost immediately, he joined the Association for the Advancement of Creative Music (AACM). Jenkins recalls that this union marked the first time that as a violin player he was truly welcomed into creative music performances. During this time he played and recorded with Muhal Richard Abrams, Leo Smith and Anthony Braxton. In 1969, Jenkins left for Paris with Braxton and Smith. With the addition of drummer Steve McCall, they formed the Creative Construction Company. Their 1970 performance in New York, joined by Richard Davis on bass and Abrams on piano, gave New York the first taste of the new music that Chicago musicians were creating. Jenkins continued to work with the finest creative musicians .... Archie Shepp, Albert Ayler, Alice Coltrane, Mtume, Cal Massey, to name a few. But it was the work of the collective Revolutionary Ensemble (co-founded with bassist Sirone and drummer Jerome Cooper) that gained Jenkins prominence as the most significant violinist of the modern era.

After a decade of touring with his own groups and solo worldwide, Jenkins received a number of major commissions and is particularly in demand for experimental and theater-based work. Mother of Three Sons, a dance opera collaboration with Bill T. Jones, premiered in Germany and in 1992 was presented in New York by the New York City Opera and by the Houston Grand Opera. Prestigious commissioning programs such as The Rockefeller Foundation and the Readers Digest Program, along with Meet the Composer and National Endowment funding have awarded him grants to create several new works currently in various stages. Fresh Faust (a jazz rap opera) received its first workshop in Boston and was picked up by New York's Public Theater for workshop. Other recent works are: The Negro Burial Ground, presented by the Kitchen in New York and Willie Horton which premiered in various venues in Philadelphia, Chicago, and New York.

Previous commissions have come from a wide range of institutions, such as the Brooklyn Philharmonic, the Cleveland Chamber Symphony, the Nickelsdorf Festival in Austria, and Lincoln Center Out of Doors (for solo violin and solo dancer). The Albany Symphony and the Kronos Quartet have performed his works, and his compositions were included in the American Composers Series presented by the Kennedy Center in Washington, D.C. Jenkins has also been sought after as a popular composer/musician-in-residence, in such universities as Oberlin, Brown, Williams, the University of Michigan, the University of Illinois and Carnegie Mellon Institute. He has been honored and recognized by five NEA grants, as well as winning grants from New York Foundation for the Arts, the Creative Arts Program, and Harvestworks Artist-in-Residence Program. He was awarded a "Bessie" in 1992 for Mother of Three Sons.

A recent review in String Magazine called Jenkins ".... not only the father of extended improvisational string music, but also one of the guiding lights of creative music as a whole .... Jenkins has not only been a musical force but a moral oneguiding his peers in all areas of their musical lives."
DISCOGRAPHY
Solo, Lovely Music, Ltd. CD 3061, 1998
Out of the Mist, Joseph Jarman and Leroy Jenkins, Ocean Records, OR106, 1997
Themes and Improvisations on the Blues, Composers Recordings, Inc. eXchange Series CRI CD663, 1994
Dream of Dreams of Home, on Sign of the Times, Thomas Buckner, baritone, Lovely Music, Ltd. CD 3022, 1994
Leroy Jenkins Live!, Black Saint, 1993
The Legend of Ai Glatson, Black Saint
Lifelong Ambitions, featuring Muhal Richard Abrams, Black Saint
Space Minds, New Worlds, Survival of America, Tomato, TOM-8001, 1979
Straight Ahead/Free at Last, with Abdul Wadud, Red Records
Mixed Quintet, Black Saint
Urban Blues, Black Saint
For Players Only, JCOA Records (LP)
Swift are the Winds of Life, with Rashied Ali, Survival (LP)
Solo Concert, India Navigation (LP)
LINKS
AACM Site: http://aacmchicago.org/members/Leroy.html
---