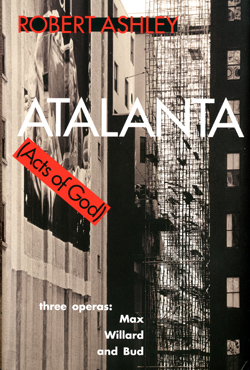 Atalanta (Acts of God)
The definitive text of Atalanta (Acts of God) is followed by an Afterword by Ashley. An excerpt from the Afterword:
"I had already decided who the three characters of Atalanta (Acts of God) would be: Max Ernst, a long-time artistic hero for me; Willard Reynolds, my uncle, a storyteller to whom I had listened for most of my life; and Bud Powell, a legendary jazz pianist. The "successful suitor" in the Atalanta myth now has three forms (reminding us of his successful strategy) and not coincidentally, the genius of these men cam be taken to represent three aspects of opera itself: image, narrative and music."
Edited by Melody Sumner Carnahan. 9 1/4 x 6 1/4inches, 207 pages, clothbound, smythe-sewn. Published by Burning Books, 2011. Available from Lovely Music by special arrangement. The opera is also on CD.
"Atalanta is the second in a cycle of three operas (Perfect Lives and Now Eleanor's Idea being the first and third) which have defined Ashley as the single most important figure in American experimental music theater. While early work such as the sublime Automatic Writing is strikingly minimal in its structure and layering of elements, the operas- particularly this one- are complex.

It takes many listenings to explore the levels which Ashley combines effortlessly in his librettos. It has to be said also that he is a fine writer of prose and the depth of these works reflects the quality of a highly developed literary mind as well as that of a first rate composer. Having read the libretto several times now, I can say that the text is as inexhaustibly rich as that of Perfect Lives. (John Cage said of that opera: "What about the Bible? And the Koran? It doesn't matter: we have Perfect Lives."

— Paul Schultze, The Wire
LM BK011
ISBN 978-0-936050-29-4
Lovely Music Price: $25.00


---