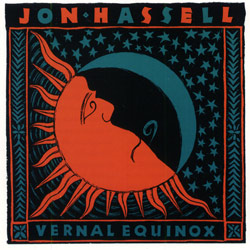 VERNAL EQUINOX
Jon Hassell, trumpet, synthesizer, drones; Nana Vasconcelos, Miguel Frasconi, Nicolas Kilbourn, David Rosenboom and William Winant, percussion
Released in 1977, this recording would go on to influence Brian Eno, whose subsequent association with Hassell formed a collaboration with Possible Musics. Within these sparse but exotic textures, you can hear the vocal source of Hassell's unusual trumpet sound as he bends notes into breath-like murmurs. On the raga-like title track, Hassell weaves a long, sinewy trail across the slow percussion of David Rosenboom and Nana Vasconcelos, with a slowly-shifting synthesizer background acting like a "minimalist" take on a tamboura drone.
"Early experiments (76-77) in fourth-world algorithms from this oft-overlooked composer. Features the dynamic/tasteful instrumental stylings of Nana Vasconcelos, David Rosenboom (recent Braxton collaborator), William Winant, Nicholas Kilbourn, and someone/thing monikered to the known universe as 'Drone'. Mostly light island rhythms augmented by Hassel's alien effector-trumpet. Recalls the peaceful slumber of Miles's In a Silent Way in spots. Don't forget the most important credit; "256hz pitch standard: Motorola Scalatron" (Wouldn't want to run into THAT in a dark alley...)." — Hrvatski.
— from Forced Exposure
Brian Eno also wrote an article for The Guardian about this record.
Track Listing:

1. Toucan Ocean (3:50)
2. Viva Shona (7:03)

3. Hex (6:23)
4. Blues Nile (9:54)
5. Vernal Equinox (21:58)
6. Caracas Night September 11, 1975 (2:11)
CD 1021
745295102120
List Price: $16.99
Lovely Price: $15.00
No longer available.
---