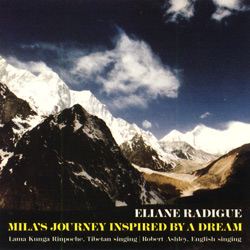 MILA'S JOURNEY INSPIRED BY A DREAM
Performed (Arp synthesizer) and recorded by Eliane Radigue; Robert Ashley, English voice; Lama Kunga Rinpoche, Tibetan voice.
Milarepa is a great saint and poet of Tibet who lived in the 11th Century. His autobiography, the Mila Kabum or Namthar, as told to his closest disciple, Rechungpa, has been translated into several Western languages. In this story of Milarepa's life, we can see how, through years dedicated to meditation and related practices in the solitude of the mountains, Milarepa achieved the highest attainable illumination and the mental power that enabled him to guide innumerable disciples. His ability to present complex teachings in a simple, lucid style is astonishing. He had a fine voice and loved to sing. When his patrons and disciples made a request or asked him a question, he answered in spontaneously composed free-flowing poems or lyric songs. It is said that he composed 100,000 songs to communicate his ideas in his teachings and conversations.
Drinking the Mountain Stream (Lotsawa Publications), from which the song on this CD was taken, is the first English translation of these texts, by Lama Kunga Rinpoche and Brian Cutillo.
1. Mila's Journey Inspired by a Dream (62:21)
CD 2002
7-4529-52002-2-2
List Price: $16.99
Lovely Price: $15.00
---