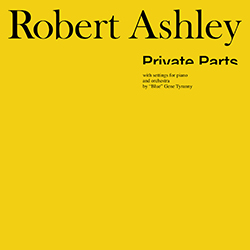 Private Parts
REISSUED IN 2019. Now contains an insert with the libretto!
"When Private Parts first hit the scene, everyone I knew had The Park memorized within a month and quoted from it constantly. Ashley's series of non-sequitur images, fusing into a picture so lifelike that it never quite added up, brought a mystery into music theater that smashed our previous conceptions of the genre."
— Kyle Gann
with settings for piano and orchestra by "Blue" Gene Tyranny
Robert Ashley: Voice
"Blue" Gene Tyranny: Piano, PolyMoog, Clavinet
Kris: Tablas (Krishna Bhatt)
Recorded at The Recording Studio, Center for Contemporary Music, Mills College (Oakland, California), July, 1977.
Jacket design by Ariel Peeri.
© P 1977 Lovely Music, Ltd.
All rights reserved.
Track Listing:

Side A. The Park (21:32)
Side B. The Backyard (23:56)
LP 1001
7-4529-51001-1-9
---