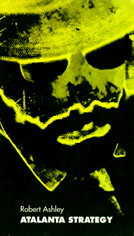 ATALANTA STRATEGY
Ronald Vance, Jeffrey M. Jones, Ron Vawter, Kate Valk and The Wooster Group, "Blue" Gene Tyranny, Jacqueline Humbert, Robert Ashley, Rebecca Armstrong, Marjorie Merrick.
27 minutes, VHS, NTSC or PAL.
Created by Robert Ashley and Lawrence Brickman as a multi-projector program for stage and broadcast media, "Atalanta Strategy" is based on the anecdote material of the second episode ("Willard") of the opera, Atalanta (Acts of God). There are three kinds of scenes surrounding the main anecdote, Willard's story, which is sung by Robert Ashley. These surrounding scenes are:
1) "The Flying Saucer," in which the captain and the lieutenant of an alien space ship discuss the strange habits of human beings;

2) "The Mule in the Tree" and "The Mystery of The River," stories about the mountain people of Tennessee, where Willard comes from; and

3) an Interview with Robert Ashley during which he relates that the text of Atalanta (Acts of God) dates from the 1940's and that the true author is unknown.
VHS 9
NTSC or PAL: $30.00
US customers, please select Priority Mail or UPS Ground for shipping.

NTSC IS OUT OF STOCK AS SOF 9/18/12


PAL
---